FREE---all songs on my audio page are free to listen to and download most of them at this time. Appreciate comments and feedback. Take advantage now. Please buy "Step Out" CD album or can download individual songs. Subscribe to my You Tube page.
 https://youtu.be/0Win9CdSkQQ new video Running Scared.
 Articles about my co-writers and travels    
Stories of how the songs came into being. any other information that you want to know.
Come back soon. ekb
List of Recordings:
1971 Which Way to Nowhere by EK Bruhn First recorded on The Open Door -Which Way to Nowhere Album.
Taking Time by Bruce Bishline 1970. Recorded on Which Way to Nowhere album 1971
1971 Fire and Rain by James Taylor recorded by EK Bruhn on the Which Way to Nowhere Album
1971 The Christian Promise (First named Christian Curse but that did not sound right). By Morris Passmore and E K Bruhn on Which Way to Nowhere.
1971 Teach Your Children by Crosby Stills, and Nash recorded by the Open Door on Which Way to nowhere
1971 Sweet Lord Jesus Music by Jerry Jeff Walker and Lyrics unknown recorded by the Open Door on the Which Way to Nowhere album
1971 Realization by Morris Passmore and EK Bruhn recorded on the Which Way to Nowhere album (Sound Factory lable)
1971 Live Forever by EK Bruhn on the Which Way to Nowhere album.
1976 met Eldon Howery. Had a ton of lyrics for songs. Over the next ten years would co-write and record about a hundred of these songs. Most unreleased but on old tapes that I will try to copy over to CDs/MP3 format. Some great songs that just never got played at the right place. Granny Go Go and Yes I Do by Eldon Howery and EK Bruhn 1976. Released on Chapie Records 1979. Received some airply and play in local Kansas City Clubs. One club taught dance moves to Granny Go Go. Yes I Do has been used in several wedding ceremonies. Yes I do has one of my favorite orchestration and arrangements. One of my favorite songs.
1984 "Christians got no reason to sing the Blues" single (unreleased) Written in the Berean Church building. Inspired to do a number of worship albums and write some new songs.
Wrote and recorded a few hundred demos during the 1980's in studio above Christian book store in Cameron, Missouri and taught music lessons to some wonderful people.
Edna F. (RIP) was a great inspiration. In her late 60s wanting to learn piano and guitar. With a few lessons she took off on her own on the piano and then brought in an electric guitar and before long was playing songs from "Pink Floyd" and some other groups. She had swollen hands from severe arthuritus but still practiced and progressed. I could hear her coming up the stairs because of her shortness of breath. She never missed her lessons. Now that was a MaaD Moment that became a beautiful MoD opportunity for me and all that new her. One other memory...One day she came in more out of breath than normal and had grease on her hands and clothes. I asked what she had been doing. Her husband was in poor health too so he was tellling her how to drop the transmission in their truck and take it out to be worked on. Almost 70 and crawling under a truck dropping a transmission. That just blew me away. What a neat person.
Betty Jackson is a songwriter, poet, artist that had me do some demos of her songs. Recorded one of them with her daughter Hope. Always smiling and pleasant. Introduced me to her sister Edna Graham (song writer) and relative, Larry Jackson who sang and played drums. Did a number of demos and co-wrote some songs with Edna. Had some great concepts and went on to get some of her songs recorded by me and on some other record labels.
1984 Hidden Beauty by Edna Graham recorded by EK Bruhn single release 
1984 Tree of Life by Edna Graham recorded by EK Bruhn single release
1984 Goody Goody Christmas in on the way by Edna Graham and EK Bruhn; recorded by EK Bruhn on Kopperfield Christmas Album. Funny song wher I first got to use my "deep" voice.
Recorded and Produced for Mary Dale, Timothy, Billy Stroud, and Elaine Sanders in the mid 80s.
Mary Dale, from Indianola, Iowa, went on to use the background tapes in concerts and received a recording contract from a company that put out her next album.
EK recorded a gospel cassette with all of the current worship choruses under "Brother Keith". Also put a Christmas Collection cassette and Country collection. Only a few people were given copies. They will be digitized and remixed to be released in 2014 for CD sales. 
 https://youtu.be/0Win9CdSkQQ New video of Running Scared....
the_heart_of_Christmas.wmv EK Live at concert East Hills Mall St. Joseph Missouri December 4, 2014 . Matthew West is an extraordinary songwriter and performer.
Happy.wmv  Pherrel Williams is a well respected producer but has some phenomenol songs that he has performed. Just won a grammy.  
http://youtu.be/rDsmrAE9xCo live --Could you walk a mile?
 http://youtu.be/WEMqRSsjwD0  Hello my name is by Matthew West sang at Leah McBee's baptism February 8, 2015.
Could_you_walk_a_mile_live_ekb.wmv
The many faces of EK-Kopperfield. Had troubles getting a following because I went a lot of different directions at once. Involved in Gospel, Rock, Folk, and Country, and then involved in drama productions video, etc. Love it all.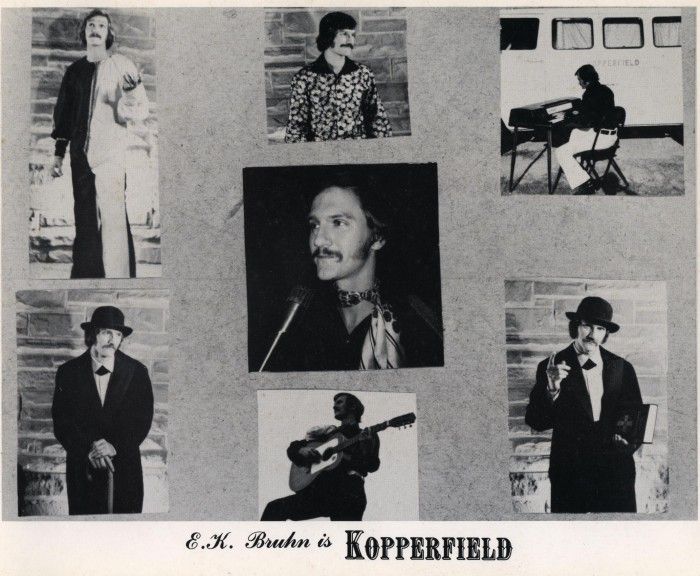 adhttp://www.concertsinyourhome.com/blog/wp-conten
http://www.concertsinyourhome.com/blog/wp-content/art/twitter40.jpg submit site